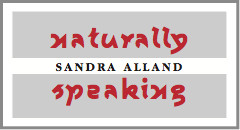 In this collection, Sandra Alland composes at the bizarre intersection of disability poetics, computer software, queer feminism and translation.

From the afterword:
"I have fibromyalgia, a condition that causes fatigue, cognitive disturbances and severe pain. I once spent two years barely able to hold a pen. One of the ways I cope with fibromyalgia pain is to use voice-activated software — a program called Dragon NaturallySpeaking. The computer types what I dictate. Or so the theory goes ... "

Alland is also the author of Proof of a Tongue (McGilligan Books, Toronto, 2004), Blissful Times (BookThug, Toronto, 2007) and Here's To Wang (Forest Publications, Edinburgh, 2009).

Co-winner of the 2013 bpNichol Chapbook Award

4.75 x 8.5 in., 32 pages, hand sewn and bound, with french flaps

ISBN 978-0-9866214-1-3

Published, December 2012, in an edition of 150 numbered copies.

Price: $12 + $2 S/H
To purchase a copy, click on the button above.